Web Hosting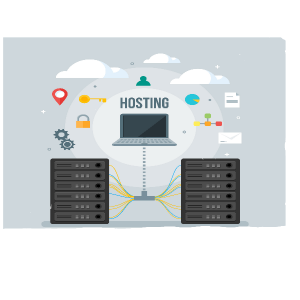 What is Web Hosting
Web Hosting is a service that allows any organizations or individuals to post a website on the internet and thus make it accessible in the world wide web. This hosting is done on special server machines. Thus the internet users have to just type your address on the browser to visit your page. A good service provider like HappyBee Host will provide you with the web hosting with wonderful offers and the customers computer then will connect with your server and the webpages will be directed to the browser. The hosting providers will provide you help with domain purchase.
Features Provided:
Email accounts:
The hosting provider want you to create your email account, features of which are provided by the hosting company like HappyBee Host.
FTP Access:
The uploading of files are done by this service from the local computer to the web server. The website you build if is done by HTML files of your own, then you may be able to transfer the files through FTP from your computer to the web server. This allows the accessibility of your website in the internet.
WordPress Support:
WordPress is a CMS i.e content management system and to be easy to understand its an online website creation tool. It is considered to be the very powerful blogging and website CMS, that help in creation and management of a website. Almost 25% of websites in the internet will be of WordPress and the hosting providers like Happy Bee Host will provide you information related to compatibility with WordPress with basic requirements like: PHP latest version; MySQL version 5.6 or greater etc.
Types Of Web Hosting
It is always good to have an understanding of different types of web hosting that we have. It totally depends on your need or your business needs. The budget you have and the type of website you want, all are factors that you should decide before selecting hosting provider.
Different hosting options are :
Website building
Shared Hosting
Dedicated Hosting
Collocated Hosting
Website Builders
This service is for people who want to host a website and if they do not have other technical skills to build. The Website builder services will help you with this by setting an interface to build the website and also host it.
Shared Hosting
Here you and other website owners will share a server including physical server along with software applications included in that server. Shared hosting becomes affordable and thus it can be shared between you and other owners. Shared hosting has its own ups and downs with respect to the needs.
Dedicated Hosting
In a dedicated service, you are getting a  web server to yourself. This leads to good and  faster performance, as you own the entire server's resources  and that too not sharing with other website owners. Here, the cost of server operations should be completely paid by the owner of server who purchases it. For websites requiring lot of system resources this is a good option.
Collocated Hosting
In this type of hosting, the purchase of the server is done by you and you will purchase your own server and house the same at a web host. The responsibility will be yours.for this service is that you have full control of the web server and also you will be able to install any scripts or applications you need.
Type of OS
Depending upon hosting needs and comfort. Though both Linux and Windows have equivalent functionalities the best option depends on your need.
Linux:
Allows to run scripts  in PHP, Perl, Python and other Unix-originated languages.
Supports MySQL and PostgreSQL databases.
Windows:
Allows to run ASP scripts and utilizing .NET and other Microsoft technologies.
Supports Microsoft SQL Server and Access database
Go select the best plans for web hosting from HappyBee Host